Population
Longreach is made from the former Shires of Longreach, Ilfracombe and Isisford including the towns of Longreach, Ilfracombe, Isisford, Emmett and Yaraka.
The Longreach Regional Council covers an area of 40,638 square kilometers and has a total population of approximately 4700.
Climate
Longreach has beautiful warm weather almost all year round. Average maximum temperatures are 36-40 degrees during summer and 23-26 degrees during winter. Minimum overnight temperatures are 22-23 degrees during the summer months and 7-8 degrees during winter.
Interesting note: all the streets in Longreach are named after birds. Streets named after water birds run east-west and those named after land birds run north-south.
Driving
Longreach is located approximately 1200km north west of Brisbane, 700km west of Rockhampton and 670km south west of Townsville. The major highways to Longreach are sealed. Be sure to check the road conditions during our wet season, contact RACQ on 1300 130 594 or feel free to give us a call.
Greyhound Coaches
Greyhound has a daily service from Brisbane to Longreach. They depart in the evening travelling overnight and arriving the next day. For more information phone Greyhound Coaches on 1300 473 946 or visit www.greyhound.com.au
Train
The spiritof the Outback train departs from Brisbane on Tuesdays and Saturdays travelling to Rockhampton and through the towns of Blackwater, Emerald, Barcaldine and arriving at its final destination, Longreach the following day. For more details call Queensland Rail on 131 617.
Plane
Qantas Link offers daily return flights from Brisbane to Longreach. For reservations contact www.qantas.com.au, Rex Airlines www.rex.com.au offer two return flights per week from Townsville to Longreach.
View what our region has to offer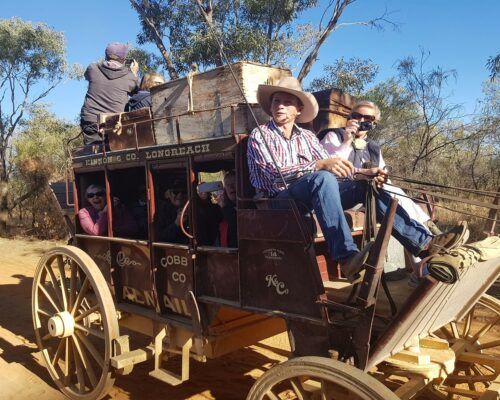 Longreach Attractions
Prior to 1860, the land around what is now the Shire of Longreach was peopled by the Iningai, Malintji and Kunngkari. In 1860, William Landsborough
Read More »