Explore Longreach with us
Longreach accommodation choices include
Albert Park Motor Inn
Jumbuck Pet Friendly Motel with pool and family rooms
Stork road - Longreach outback
Adventures Pet Friendly Budget Accommodation
Come stay, Relax & unwind
Welcome to Longreach accommodation including
ALBERT PARK MOTOR INN,  JUMBUCK LONGREACH MOTEL, ABAJAZ MOTOR INN &  STORK ROAD OUTBACK ADVENTURES CABINS
Set in an idyllic bush setting and in close proximity to Longreach's iconic attractions. All our units are ground level for your convenience and comfort as well as undercover parking, Reverse-cycle Air-conditioning & laundries on site.
Located close to Australian Stockmans Hall of Fame, Qantas Founders Outback Museum and Longreach Airport. Reception hours are from 7.30am to 8.30pm, internet kiosk available. Set in unique bush surroundings.
CLOSE TO LOCAL ATTRACTIONS
Accommodation in longreach
Each one of our units benefit from reverse-cycle air-conditioning, room service,
digital free to air television and convenient undercover parking right out the front.
WHAT OUR HAPPY GUESTS ARE SAYING
"We stayed here on our second time in Longreach. The rooms are large and clean. But the best part is the staff. We had to leave our car here due to a breakdown, and they could not have been more helpful. Nothing seemed to be too much trouble. If you are in Longreach or planning a trip, make sure you check in here. True country hospitality."
"We've been able to spend three nights here, room, and service have all been top shelf! The motel is close to both the Stockman's Hall of fame, as we as the QANTAS Founders Museum. They also have a pool which is very invigorating, especially on hot days."
"They have a shuttle from the airport although it's only about 600m. Right across the road from Qantas museum and also Stockmans Hall Of Fame. Staff are very friendly and accommodating. Clean rooms with lots of covered parking too."
"Me my husband and mum stayed here on the way home from Mt Isa, nice and comfortable, hot showers and within walking distance to Stockman Hall of Fame and Qantas museum"
"Stayed here for 2 nights with my partner and son. Great friendly service, large rooms, a little dated in decor but still fine. Pool, within walking distance to the Qantas Aviation Museum and Stockman Hall of Fame. 3 minute drive to the main street. Lots of parking. Enjoyed our stay."
Longreach has beautiful warm weather almost all year round. Average maximum temperatures are 36-40 degrees during summer and 23-26 degrees during winter. Minimum overnight temperatures are 22-23 degrees during the summer months and 7-8 degrees during winter.
Interesting note: all the streets in Longreach are named after birds. Streets named after water birds run east-west and those named after land birds run north-south.
View what our region has to offer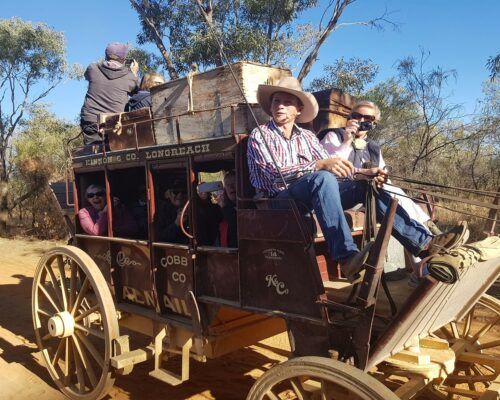 Longreach Attractions
Prior to 1860, the land around what is now the Shire of Longreach was peopled by the Iningai, Malintji and Kunngkari. In 1860, William Landsborough
Read More »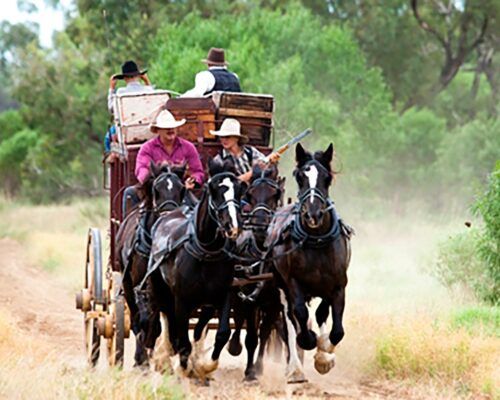 Longreach Attractions
Hear the pounding hooves of the magnificent horses on the outback dirt road. Hear the rattle and creak of the coach. Hold on to your
Read More »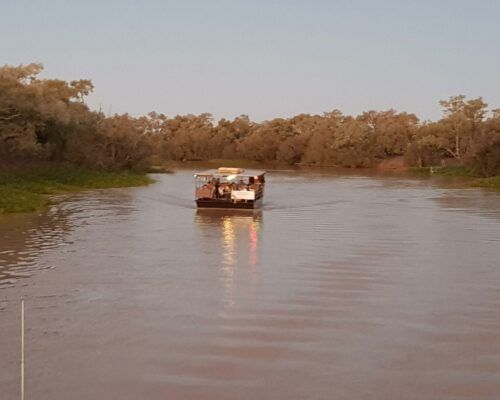 Longreach Attractions
Enjoy a gentle sunset cruise down the majestic Thomson River, where birds flock home to roost on the riverbanks. This is Longreach's original Thomson River
Read More »